Welcome to All Fiction Battles Wiki!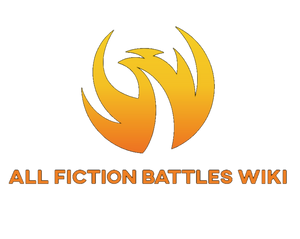 ---
Welcome to All Fiction Battles Wiki. On this Wikia, we index and create profiles for fictional characters, weapons, civilizations, etc...from various franchises, be it from anime, novels, games, movies, cartoons, etc, alongside pages for abilities/powers often displayed in such fictional works. We also put those fictional characters against each other and reach a simple conclusion regarding the two of them, deciding who would win realistically speaking.

Additionally, we also create respect threads/blogs with most notable feats of a character, sometimes alongside their cosmology and vice-versa. With that being said, this Wikia doesn't intend to compete with any other powerscaling community, as this place exists as a separate community with different beliefs and standards.
| | | | | | | | |
| --- | --- | --- | --- | --- | --- | --- | --- |
| | 1,204 Articles | 7,107 Pages | 5,035 Files | 31,950 Edits | 3 Admins | | |
Profiles Of The Month!
Below is a list of pages from the wiki that our Staff chose as the best profiles made during the last month period (July 1st to 31st):
Main Rules!
Keep it civil: Do not make personal attacks on other people. If you need to criticize another user's argument, do so without attacking them as a person. Do not use bigoted language, including slurs which degrade another person or group of people based on gender, race, sexual orientation, nationality, religion, etc.
Be a productive member of the wiki: Contribute to the wiki in line with the established processes and conventions. Need help? Ask an Admin or Mod. Disrupting the wiki with "edit warring" over differing opinions of a topic with another user or group of users is not productive.
Do not harass other users: If somebody asks you to stop posting certain content on their wall, respect their wishes. It is their wall.
Do follow community guidelines for formatting: When a community has established formatting, it's important to adhere to that.
Dont vandalize profiles: Do not vandalize articles by any means. Doing so will almost always result in a block.
Avoid spamming: Do not spam in any thread or article.
NO NSFW: Do not post vulgar images or anything porn related. Doing so will almost always result in a block.
No Trolling: Do not create pages/articles with trolling purposes and don't troll in general.

Using sock-puppet handles is strongly forbidden, especially to circumvent blocks. Doing so will result in the block duration being greatly increased for all of the relevant accounts.
Guidelines and Standards!