| | | |
| --- | --- | --- |
| " | So you are my companion? | " |
| | ~ Flare to Keyaru | |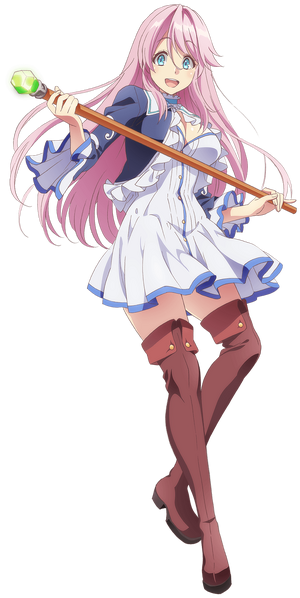 | | | |
| --- | --- | --- |
| " | THIS IS A MIRACLE, IT'S A SMALL LANTERN THAT WILL LEAD THE WORLD TO PEACE. SO LET'S MAKE THIS SMALL LANTERN BRIGHTER. AND SHOW THE KINGDOM THE POSSIBILITY OF TRUE PEACE!! TO ALL SOLDIERS!! PLEASE HAVE HEART AND STOP THIS NEEDLESS VIOLENCE! TO ALL THE PROUD HOLY SPEAR KNIGHTS! PLEASE STOP SULLYING THOSE SPEARS WITH INNOCENT BLOOD THIS IS MY ORDER... NO, THIS IS MY PLEA!! JOIN ME TO BE THE NEW SHIELD FOR HUMANITY! TO PROTECT THIS CITY!! AND THE PEOPLE WHO LIVE IN THIS CITY AS WELL AS THIS SMALL LANTERN OF PEACE!! | " |
| | ~ Freia | |
Background
Flare Arlgrande Jioral, now known as Freia, is the Magic Hero and the main heroine. She is the princess of the Jioral Kingdom, who is currently Keyaruga's companion and slave.
Powers and Stats
Tier: 9-A, High 7-C with Magic
Name: Flare Arlgrande Jioral, Freia
Origin: Kaifuku Jutsushi no Yarinaoshi
Gender: Female
Age: 14+
Classification: Human, Hero
Dimensionality: 3-D
Powers and Abilities: Superhuman Physical Characteristics, Magic, Weather Manipulation and Electricity Manipulation (Via Mjolnir, which summons a massive thundercloud, releasing concentrated lighting down on the target, she can also summon lighting), Elemental Manipulation (Her stats state that she can use magic of every element), Forcefield Creation (She can create barriers such as Anti-Demon Barrier), Earth Manipulation (She can summon and asteroid to fall onto a target), Social Influencing (She was able to convince Kureha that Kearu was good and that they were fighting against the injustice of the kingdom, she was able to stop the fighting between the humans and demons with her speech gaining their support), Instinctive Reaction (Her body reacted to the mention of her sisters name even though her memories have been erased), Glyph Creation, Enhanced Senses (She can use a spell to track a target by there heat and can show their location through it), Ice Manipulation (She can create weapons out of ice), Weapon Creation, Air Manipulation (She can wrap wind around her ice spear to launch it at a target), Shockwave Generation (She can send a shock wave through the earth destroying all the ground in front of her), Statistics Amplification (Her staff boosts her magic power), Absorption (Her staff absorbs Magic from its surroundings), Martial Arts (Type. 3, she has been trained in hand to hand as well as having a skill in it but only as Flare).
Attack Potency: Small Building level (She should be comparable to Keyaru as he's considered the weakest hero), Large Town level with Magic (Most of her spells can deal this much destruction and she can summon a massive asteroid)
Speed: Supersonic (She can keep up with Keyaru and can react to his movements)
Lifting Strength: Class 5 (She should be comparable to the Ice Wolf Tribe soldiers)
Durability: Small Building level (She should be comparable to Keyaru as he's considered the weakest hero), Large Town level with Magic (Her magical barriers should be as strong as her normal magic)
Stamina: Average (Physically she isn't as capable as Keyaru), High with Magic (She can cast multiple spells, fight multiple enemies and use high tier magic)
Range: Tens of meters, Hundreds of meters
Standard Equipment: Vanargand
Intelligence: Above Average
Weaknesses: None notable | She's weak in close range combat
Notable Attacks/Techniques:
Elemental Magic: Flare is able to cast formidable magic affiliated with various elements, including lightning, fire, ice, earth and wind. A normal mage can only master one or two elements, but as a Hero, Flare is capable of using every single element and combine several spells to devastating effect.
Mjolnir - A seventh rank ancient magic that only Flare is able to use as the Magic Hero. She uses this spell during the battle against the Demon King in the first timeline. The spells summons a massive thundercloud that release a high concentration of lightning against the target.
Star Fall - A fifth rank magic used by forming a miniature sun and throwing it onto a group of enemies to create a massive explosion. It is designed to annihilate armies and has the additional effect off burning alive nearby targets while descending. Freia uses this spell to support Keyaru during the battle to save the Ice Wolf Village. With Keyaru this magic can by activated at an additional range of 400 meters.
Earth Shatter - A spell that causes the ground to split and shake like an extremely violent earthquake. Freia uses this to help the party escape the minitours that were trying to get Iblis.
Heat Detection - A original spell created by Keyaru that Freya learned during their time in Ratalinna. The spells allows the user to detect all heat signatures in a radius of 350 meters, making virtually impossible to reach the caster undetected.
Compound Magic

Ice Spear Wind Bullet - Another original spell created by Keyaru that Freya learned during their time in Ratalinna. She creates a spear out of ice and then uses wind magic to send the spear flying forward with increased speed. This spell can be used in conjunction with heat detection in order to snipe enemies from long distances.
Others
Notable Victories:
Notable Losses:
Inconclusive Matches: