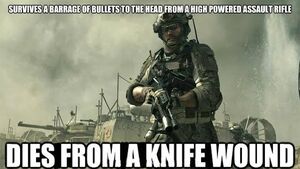 Summary
Gameplay Mechanics refers to the abilities shown in games (usually video games) that are determined by the rules of the game (examples include hit points, levels, statistics, world map crossing in seconds outside of cinematics, etcetera) and are not necessarily indicative of a character's or entity's actual abilities.
Examples
In-game, Mario can get knocked out by a Goomba in a few hits and cannot even dent Thwomps without use of invincibility stars. But in canon, Mario has the strength to effortlessly lift an entire fortress containing entire armies of Goombas, Koopa Troopas, Thwomps, ectetera, and he can toss them all off the screen. And he can also crush the same castles thus one-shotting all of them just by jumping on it.
Many game characters, including various Nintendo, retro video game, and JRPG protagonists, are incapable of destroying simple structures such as rock walls. However, they are capable of harming enemies who have endured a mountain- or even universe-destroying scale of damage, and recurrently have many similar feats in the lore of their respective verses.
Game mechanics are considered to be non-canon, and using examples of them in an argument is considered fallacious.
It is also important to remember the fundamental meaning of the term, and not arbitrarily use it when it is inappropriate.