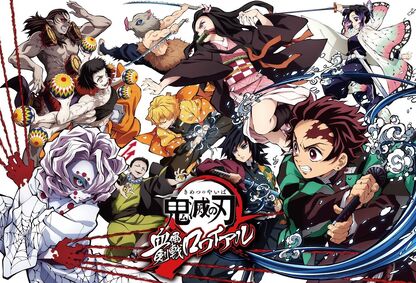 Summary
Tanjiro Kamado is a young boy who sells charcoal to make a living for his family. One fateful day, the entirety of his family, save his sister, are murdered by a Demon, thrusting him into a world of fear and despair. After an encounter with a Demon-killing swordsman, Tanjiro and his sister, who is now a Demon herself, must discover a way to end her curse and track down the monster who destroyed their family.
Powers of the Verse
The verse has AP ranging from Wall level, Small Building level, Building level, City Block level+ and Multi-City Block level. Their speed is Hypersonic+, High Hypersonic and Massively Hypersonic+.
The verse have Powers/Abilities such as Statistics Amplification, BFR, Sleep Manipulation, Blood Manipulation, Size Manipulation, Fire Manipulation, etc.
All demons have Immortality (Types 1, 2, and 3), Regeneration (High-Mid), Transformation, Self-Sustenance (Type 3), Body Control, etc.
Calculations
Attack Potency
Speed
Supporters/neutral/Opponents
Supporters
Neutral
Opponents
Characters
Demon Slayers
Tanjiro's Group
Hashira
Demons
Unranked Demons
Upper Moons