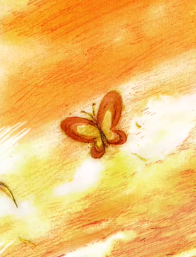 | | | |
| --- | --- | --- |
| " | If someone were to perish, this butterfly of paradise Will Come flying from somewhere on its day of judgement. After many years resonating for pleas for life, brought upon the White knight dubbed the galaxy's strongest warrior, they become the knight from hades, and make their descent. With their history being buried in darkness, fighting them should be impossible. The curtain on this dream-like Battle rises! | " |
| | ~ Morpho Knight descrption (translated) | |
| | | |
| --- | --- | --- |
| " | On the Day of Judgement this Butterfly of Paradise will come flying down from Another Dimension. A world of Dreams or a World of the Dead... which dimension will he go next. The power received from the White Knight becomes greater day by day and will finally become his own. The true strenght of the Black Butterfly show on this day... which now is closing in onto evening. | " |
| | ~ Morpho Knight description (translated) | |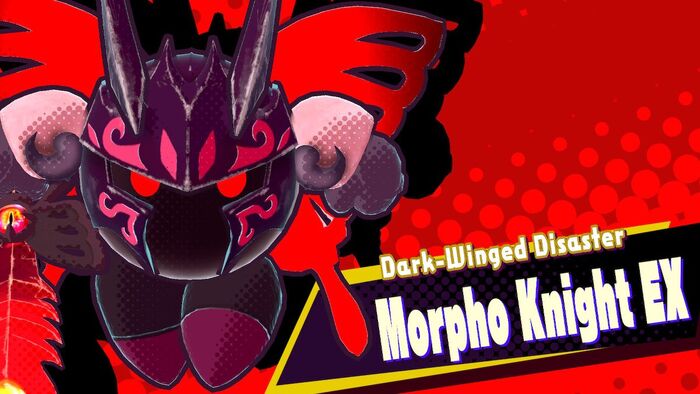 | | | |
| --- | --- | --- |
| " | On the Day of Judgement this Butterfly of Paradise will come flying down from Another Dimension. A world of Dreams or a World of the Dead... which dimension will he go next. The power received from the White Knight becomes greater day by day and will finally become his own. The true strenght of the Black Butterfly show on this day... which now is closing in onto evening. | " |
| | ~ Morpho Knight description (translated) | |
Background
Morpho Knight is a major boss that appears within Kirby Star Allies and takes the role as the final boss of Guest Star ???? Star Allies Go!. It is implied that Morpho Knight is the recurring butterfly seen within various modern Kirby games, including Star Allies itself and possibly the first butterfly seen from the start
Hes the knight from The Paradise and The Underworld working as a sort of "Grim Reaper" chosing the fate of others and wether they will go to said places
Powers and Stats
Tier: 10-C, Unknown, likely 2-C with Absorption | 2-C, much higher in EX form, far higher over time
Name: Morpho Knight, Valfrey Knight
Origin: Kirby
Gender: Unknown
Age: Unknown
Classification: Mysterious Paradisical Butterfly | As before, Knight, Reborn Butterfly, Dark-Winged Disaster, the Black Paradisaical Butterfly
Dimensionality: 3-D
Attack Potency: Below Average Human level (looks to be a normal butterfly), Unknown, likely Low Multiverse level with Absorption (Absorbed Galacta Knight, although it's unknown how much powerful Galacta was at the event), can ignore durability via Transmutation and Absorption | Low Multiverse level (Absorbed Galacta Knight but was yet to make his power his own. Fought evenly & lost against up to 4 Star Allies, including the likes of Kirby, Meta Knight, King Dedede, Bandana Waddle Dee and others. Superior to Hyness), much higher in EX form (Got daily amplified by the power received from the white knight until finally making it into a power of its own, demonstrating its true power. Placed above the Retaliator Three Mage-Sisters combined, who were superior to Corrupt Hyness, who in turn should be above the first Void Termina shown), far higher over time (He gets even more powerful on a daily basis), can ignore durability via Transmutation, Absorption and Butterfly Scales
Speed: Massively FTL+, likely Immeasurable (Could absorb Galacta Knight before he could react) | Massively FTL+, likely Immeasurable (Kept up with those who can react, dodge and clash with him while flying. His flight should be comparable, if not equal, to that of Galacta Knight), faster in EX form, even faster over time
Lifting Strength: Unknown
Striking Strength: Below Average Human Class | Low Multiversal, higher in EX form, far higher over time
Durability: Below Average Human level | Low Multiverse level (Withstood major blows and strikes coming from Kirby & the Star Allies), higher in EX form (more durable than before), far higher over time, Regeneration makes him hard to kill
Stamina: Unknown | Very High
Range: Unknown, Low Multiversal with it powers | Standard melee range, Extended melee range via his Sword, higher with Size Manipulation, Interstellar via Projectiles, Low Multiversal with it powers
Standard Equipment: Unknown | His sword
Intelligence: Unknown in general, however he's shown to be a very skilled fighter and expert marksman
Weaknesses: Unknown | Clashing with one of his attacks will shortly stun him
Notable Attacks/Techniques:
Butterfly Scales: Morpho Knight releases soundwaves that when contact is made, causes his opponent to joing his side
Key: Pre-Galacta Knight Absorption | Post-Galacta Knight Absorption
Explanation
Both of Morpho Knight's pause screen descriptions have been severely mistranslated, fans have given their own more accurate translations to them, if with a few minor differences from each other.
Morpho Knight's description: 何かが たえ、その しんぱんの日に どこからか飛らいする、極楽の夢見鳥。 銀河最強と 言われる白き騎士が もたらした、長年の 生命のさけびに共めいし、黄泉からの騎士となって こうりんする。れきしの闇に ほうむられた、決して戦う はずの無いアノそんざいとの、夢の対決の… まくあけだっ!

"From one's extinction, comes flying the mysterious, paradisaical butterfly on the day of judgement. It hears the endless years and cries of the White Knight, said to be strongest in the galaxy, coming forth as a knight from the underworld. Thus unfolds the dream match with that being, buried in the darkest reaches of history and never fated to fight."
"If someone were to perish, this butterfly of paradise Will Come flying from somewhere on its day of judgement. After many years resonating for pleas for life, brought upon the White knight dubbed the galaxy's strongest warrior, they become the knight from hades, and make their descent. With their history being buried in darkness, fighting them should be impossible. The curtain on this dream-like Battle rises!"

Morpho Knight EX's description: しんぱんの日に、より 飛らいする 極楽の夢見鳥。夢の国か、黄泉の国か… 次は どの次元を めぐり行くのだろうか。白き騎士から 受けついだ パワーを 日々ぞうふくさせ、ついに その力を わがものにする。真の力をはっきした黒き極蝶による しんぱんの日が… 今、晩刻を むかえる!

"On the Day of Judgement, comes the paradisaical butterfly from Another Dimension. Which dimension will it surround next, a world of dreams or a land of the dead? It has been amplified each day the power inherited from the White Knight and has finally made that power his own. Now, judgment day for the Black Paradisaical Butterfly to demonstrate its power... Has come!"
"On the Day of Judgement this Butterfly of Paradise will come flying down from Another Dimension. A world of Dreams or a World of the Dead... which dimension will he go next. The power received from the White Knight becomes greater day by day and will finally become his own. The true strenght of the Black Butterfly show on this day... which now is closing in onto evening."
"Butterfly of paradise that flies from another dimension on the day of judgment. A country of dreams, or a country of the underworld, which dimension will he traverse next? The power received from the white knight is amplified daily, and is finally made into a power of its own. The day of judgment is when the black butterfly demonstrates its true power… Now, the dusk comes!"
Others
Notable Victories:
Notable Losses:
Inconclusive Matches: