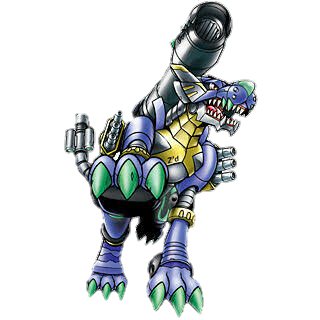 Background
Z'dGarurumon is a subspecies of MetalGarurumon and being it's final and most powerful form yet. similar to it's previous evolution, it has two enormous blasters on it's back and a metal-like skin.
Z'dGarurumon also appeared in Digimon NEXT as a ally for VictoryGreymon and assisted him in a fight against NEO
Powers and Stats
Tier: High 1-B
Name: Z'dGarurumon/ZeedGarurumon
Origin: Digimon
Gender: Genderless
Age: Unknown
Classification: Mega Level Data Attribute Cyborg Digimon
Dimensionality: Infinite-D
Attack Potency: High Hyperverse level (was designed to stop and defeat Yggdrasil if she ever got corrupted and got out of control)
Speed: Immeasurable (Comparable to his partner, VictoryGreymon)
Lifting Strength: Immeasurable
Durability: High Hyperverse level (is capable of dealing with Yggdrasil's attacks)
Stamina: Extremely high
Range: High Hyperversal
Standard Equipment: None
Intelligence: Unknown
Weaknesses: Nothing notable
Notable Attacks/Techniques:
Z'd Cannon: The ultimate weapon for attack.
Full Metal Breath: Mows down the opponent by simultaneously firing the Z'd Cannon alongside all of the other weapons throughout its body.
Blowback Breath: Sprays explosive energy from its mouth.
Howling Blaster: Fires blue, high-temperature flames from its mouth.
Subzero Ice Fang: Bites an enemy with icy fangs.
Ice Wall: Breathes out a wall of ice to repel attacks.
Speed Charge: Boost his speed by 10%
Ice Cannon: Fires balls of ice from its mouth.
Wolf Cry: Howls a powerful shockwave.
Cocytus Breath: Spews cold air at absolute zero that completely freezes everything, and instantly brings the victim's vital functions to a halt.
Grace Cross Freezer: Launches freezing missiles from all of the weapons hidden throughout its body.
Garuru Tomahawk: Fires a missile from its chest.
Metal Wolf Snout: Fires four energy beams from the four laser sites on its snout.
Aura: Heals himself or an ally.
Speed Charge Field: Boosts he and his allies' speed.
Metal Howling: Attacks the enemy with a powerful howl.
Chrono Breaker:: Inherited from Clockmon. Wears away its foe's bodies by stopping time or erasing it. This has shown to work on 11-Dimensional Immeasurable beings.
Idle Bubble: Launches a bubble that puts the foe to sleep immediately.
Cog Crusher/Darkness Gear: Shoots out black cogs that can control opponents they're embedded in.
Command Input: Releases a stream of data.
Crash Device: Explodes or runs into the enemy to electrocute them.
Nightmare Syndrome: Spits out a cloud of undigested nightmares, drowning the opponent in terror or manipulating them.
Others
Notable Victories:
Notable Losses:
Inconclusive Matches: